In light of poetry month, I am eager to share 14 resources you can use yourself, with your kids, kids on your team, students you teach, or locals if you live in a foreign country (often they LOVE  English poetry as many of you serve in strong poetry cultures). All but one of these resources are recommended by my mom, sister, and nieces (if you missed it yesterday, you can read about them and their interest in poetry). And, if you want, forward this to grandparents, aunts, uncles, and friends, with ideas for gifts!
Suggestions for pre-readers up through high school
Babybug Magazine  — for 6 months to 3 years and comes in print or digital. "The joyful, brightly-illustrated stories and poems are perfect for parents and grandparents to read aloud, while the extra-heavy pages, non-toxic ink, rounded corners, and staple-free binding make BABYBUG safe for little ones to explore on their own. A 'Guide for Caregivers' on the last page offers read-aloud tips and child." Every little one I know who had gotten Babybug, loves it. A great way to start with poetry if you feel a bit overwhelmed.
Tomie's Little Mother Goose by Iona Opie (Author), Tomie dePaola  (Illustrator). Each of my nieces referenced (unprompted) how much they enjoyed having Mother Goose read to them when they were little and my sister actually hugged this book as she was talking about it. There might have been some caressing. "Over twenty-four wonderful rhymes and verses — taken from Iona and Peter Opie's classic versions — will reach an even younger group of children in this charming new board book that lovingly brings to life not only the familiar faces of Little Miss Muffett, Humpty Dumpty, Mary, Mary Quite Contrary, and Little Boy Blue, but a host of other favorites for children to laugh with and treasure."
The Llama Who Had No Pajama: 100 Favorite Poems by Mary Ann Hoberman (Author) , Betty Fraser (Illustrator)
If you're sleepy in the jungle
And you wish to find a pillow, 
Take a friendly word of warning:
DO NOT USE AN ARMADILLO!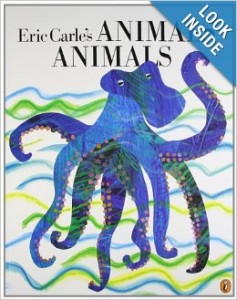 Animals Animals by Laura Whipple (Compiler) , Eric Carle (Illustrator). Again, there may have been hugging when this book was shared with me. I'm just saying :). "From leaping, flying fish to dancing butterflies, and camels that "trollop along," Eric Carle's brilliant and colorful collage designs bring to life animal poems from such diverse sources as Shakespeare, Lewis Carroll, Rudyard Kipling, Emily Dickinson, and Jack Prelutsky, as well as Bible verses, Japanese haiku, American Indian poems and more. This celebration of the wonder and variety of earth's animals is 'joyous…a book to be shared'"
Lullaby Moons and a Silver Spoon: A Book of Bedtime Songs and Rhymes by Brooke Dyer comes highly recommended by Niece #1 because it is funny and serious. "A very pretty bedtime book that manages to be both sweet and sassy. The poems chosen (it is not indicated who chose them) range from Eugene Field's venerable and adorable 'Wynken, Blynken, and Nod' to Nancy Willard's contemporary 'Rock Me.' Most are a handful of lines, but a few are longer."
Where the Sidewalk Ends: Poems and Drawings or as Niece #3 said, anything by Shel Silverstein  (Author, Illustrator). When asked why she likes his poetry so much her response was, "His poems are hilarious and he never really does use any rules."  Or as amazon says, "Where the sidewalk ends, Shel Silverstein's world begins. There you'll meet a boy who turns into a TV set and a girl who eats a whale. The Unicorn and the Bloath live there, and so does Sarah Cynthia Sylvia Stout who will not take the garbage out. It is a place where you wash your shadow and plant diamond gardens, a place where shoes fly, sisters are auctioned off, and crocodiles go to the dentist."
Mathematickles! by Betsy Franco  (Author) , Steven Salerno (Illustrator) is recommended by Niece #2 because it's mathy, short, and visual. "Follow a girl and her cat as they walk through the seasons, and note the mathematical concepts illustrated around them. This unique collection of math-poems addresses the principles of addition, subtraction, division, simple graphs, and more! "
African Acrostics: A Word in Edgeways  by Avis Harley  (Author) , Deborah Noyes  (Photographer). "Inside every acrostic is a secret message, often lurking in the first letter of each line (read top to bottom). But look out, these acrostics not only follow their subjects to Africa, but they also take the form to a whole new level. Here you'll find the elusive double acrostic (in which the first and last letters of each line spell a message), the cross acrostic (in which the message is read diagonally), and the multiple acrostic (see it to believe it) — not to mention lions, zebras, crocodiles, hippos, leopards, and elephants. Oh, my! Illustrated with gorgeous full-color photographs, this collection is sure to send poetry buffs and animal lovers on an armchair safari they'll never forget."
Whisper and Shout: Poems to Memorize by Patrice Vecchione (Editor) "From John Updike's 'Player Piano' to Walt Whitman's 'I Hear America Singing,' from Lucille Clifton's 'the earth is a living thing' to Gelett Burgess's 'The Purple Cow,' these poems tumble from children's tongues and dance with their tapping toes. Whether joyous, rhythmic, solemn, or simple silly fun, poetry learned by heart has a lasting claim on children's affections and a permanent home in their hearts. The introduction includes tips for teaching kids how to memorize poems. Vecchione presents a selection of verses with rhythms, themes, and wordplay that especially appeal to middle graders."
A Kick in the Head: An Everyday Guide to Poetic Forms by Paul B. Janeczko  (Compiler) , Chris Raschka  (Illustrator) highly recommended by my sister Elizabeth. She explained each page is a different type of poem and includes information that helps you appreciate it. "In this splendid and playful volume — second of a trilogy — an acclaimed creative team presents examples of twenty-nine poetic forms, demonstrating not only the (sometimes bendable) rules of poetry, but also the spirit that brings these forms to life. Featuring poems from the likes of Eleanor Farjeon (aubade), X. J. Kennedy (elegy), Ogden Nash (couplet), Liz Rosenberg (pantoum), and William Shakespeare, the sonnet king himself, A Kick in the Head perfectly illustrates Robert Frost's maxim that poetry without rules is like a tennis match without a net."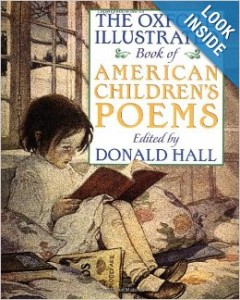 The Oxford Illustrated Book of American Children's Poems by Donald Hall (Editor) and hugged by Niece #1. "This anthology begins with Native American cradle songs and such early classics as 'A Visit from St. Nicholas' and 'The Village Blacksmith' before it moves on to enduring favorites by great poets, including Langston Hughes, Carl Sandburg, and Robert Frost. It ends with poems by some of the best poets writing for children today: X. J. Kennedy, Karla Kuskin, Shel Silverstein, Jack Prelutsky, Sonia Sanchez, Lucille Clifton, Nikki Giovanni, Gary Soto, Pat Mora, Janet Wong, and more. This is a collection for reading aloud across generations, to give children a taste of what happens when, as David McCord says, 'Books fall open / You fall in.'"
Suggestions for adults
Good Poems by Various (Author), Garrison Keillor (Editor) "Good Poems includes verse about lovers, children, failure, everyday life, death, and transcendence. It features the work of classic poets, such as Emily Dickinson, Walt Whitman, and Robert Frost, as well as the work of contemporary greats such as Howard Nemerov, Charles Bukowski, Donald Hall, Billy Collins, Robert Bly, and Sharon Olds. It's a book of poems for anybody who loves poetry whether they know it or not."
The Discovery of Poetry: A Field Guide to Reading and Writing Poems by Frances Mayes (Author) "The bestselling author of Under the Tuscan Sun brings poetry out of the classroom and into the homes of everyday readers."
Kneeling in Jerusalem – by Ann Weems  (Author) — I absolutely LOVE her poetry (She's also got one for Advent). "In a powerful and creative way, renowned author and speaker Ann Weems brings new insight into the Lenten season by providing seventy-one poems of inspiration. With her intuitive and heartening poems, Weems takes the reader on a pensive journey through Lent and Easter."
There you have it. Fourteen resources to inspire and feed your poetic side. Can you believe how many different forms of poetry exist?! I am in awe again for the vast creativeness of our God!
Were there any old favorites on the list?  What would you add? How important is poetry where you live? See you in the comments!
Disclosure : Amazon Affiliate links included in this post.  If you click through to Amazon, any purchase you make supports Velvet Ashes. Other than Babybug, the summaries come from Amazon.
A version of the post appeared  on Velvet Ashes.