"When will your book be done?"
Go ahead, ask me. "When can I buy All the News That's Fit to Tell and How to Tell It"?
I'll try not to smile too big when I say, "Today!!!!!!!"
My proof copy—when I actually hold the book for the first time—arrived in time for my trip to Costa Rica. Volunteering at an Azmera Retreat, the second afternoon presented a workshop entitled "Newsletters Can Be Fun!" While my instagram was blowing up with "famous" authors all gathering in Michigan for the Festival of Faith and Writing, I was in a glorified closet (because it had good AC) talking to fellow cross-cultural workers about writing newsletters.
A small part of my missed that I was not with those in the "big league" when it comes to publishing books. But this room? These faces? This is why All the News—her nickname—exists. These women serving in Mexico, Costa Rica, and Nicaragua were like me. They did not see themselves as writers. They plant churches, they work with youth, they have multiple outreaches going on.
One of the dirty little secrets in the world of cross-cultural workers is how many feel shame and guilt when it comes to newsletter writing. What a terrible motivational speaker in their heads! To make add to the complexity, many do not think of themselves as writers.
But in this day and age, we all are writers because of email, text messages, social media, and yes, newsletters. Because cross-cultural workers generally do not see themselves as writers, those in this room didn't know writing is a skill that can be improved on like any other skill. I wrote this book for them. I took all that I have learned writing books and translated it into newsletter speak.
(Side-note obviously all of their hair has adjusted to the humidity. Mine? My hair spent the week being very poofy. But I digress.)
They were God's gentle reminder that there are thousands of cross-cultural workers who want to connect with supporters and long for a resource like this.
All the News is divided into four sections:
The Unseen Battle: Your mind-set
Newsletter Specific Writing
Simple Ways to Improve Your Writing
Developing as a Writer
Because launch day is FUN! All of my books are on Sale in Kindle for $2.99. Yes, this includes All the News for $2.99 (Kindle, regularly $7.99) and $10.00 in print. Sale ends Saturday morning in the U.S.
This is the third time I've launched and again I feel a bit like I'm saying to you, "Do you like my baby? Will you, my people help raise her? Will you stand with me in the good times and hard? Will you still like me even when she disappoints or does stupid things?"
And all the people said, "We will!"
You might wonder, That's great, but I'm not sure what to do. What can I do? Here are eight ways you can help with this raising of All the News:
1. Celebrate! Of course I hope this book sells decently because I truly believe that better newsletters will strengthen the bond between writer and reader.
But if this books sells and I have no one to share it with, what have I gained? Nothing. Absolutely nothing. What is worse than watching sports by yourself and having no one to high-five? Nothing. Okay, there are worse things, but in that moment, it's pretty low.
I'm high-fiving you! Woot, woot! If you weren't here reading this blog, there would be no book. This blog is where my own mindset shifted and I began to think of myself as a writer. We did it. Let's enjoy this moment.
2. May I boldly suggest, buy a copy of All the News. Purchased copies through Amazon are the only way that Amazon will start to recommend All the News as an "also bought."
3. But here is a simple way that won't cost you a dime. This week it is annoyingly important to train the Amazon search engine—the second most powerful search engine right now. So, instead of clicking on the hyperlinked title, go to Amazon and in the search bar type in "all the news that's fit to tell" FYI, Amazon only lets your device count once for searching for an item. So, thank you in advance to those of you just got the idea to pull up something on Netflix and hit the refresh button on Amazon and keep typing "all the news." You can still do it, but Amazon will never know.
4. Suggest or give All the News to the head of your mission committee, a mission organization you know, or someone who has contacts in those worlds. Ask them if they would buy a copy for each of their cross-cultural workers. The best way a book sells is through word of mouth. If you tell them and they know you, they are much more likely to buy it. Physical copies available at a discount for orders of five copies or more.
5. Leave a review on Amazon or Goodreads. It does not need to be five stars (though if that's what your heart is saying, go with your heart!). Amazon is funny, she just likes to see the amount of reviews. The more reviews (even three or four star), the more Amazon will say, "Hey, maybe I should tell other people about this book."
6. Tell someone about Love, Amy. You know tons of people I don't know. You know people living in Sweden or working at this church or for that organization. You know you neighbor's cousin who is moving to Brazil or your former coworker who writes boring newsletters. You know mission committee members and pastors and counselors.
7. Know a blogger? I would be honored to write a guest post or be interviewed. Know a podcaster? I'd love to talk about mindset, motivation, or other aspects of newsletter writing. Please put me in contact with them.
8. Take a picture with yourself and All the News and share on social media. Who doesn't love a happy person with a book? And this cover will bring out the blue in your eyes.
Here is an image for Instagram:
Release days are so much fun! Next week I'll share more about the back story for this particular book. I'm happy tired today.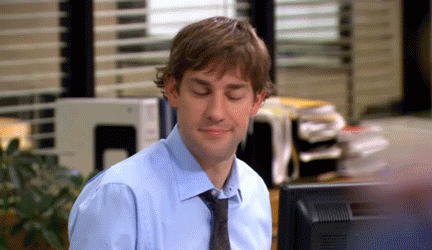 As we launch this book and wait to see how God will use it, I want to end with the benediction I gave at the end of the acknowledgments:
I thank my God every time I remember you. Philippians 1:3
Love,
Amy
Contact form for inquiries as to me speaking to your group about transitions or newsletters, buying bulk orders, or your thoughts on the Broncos' chances next year.