One sign someone is a decent human?
When you write a person you haven't met and they don't know you from Adam (other than a few comments here and their on their blog). In the email you ask to use a photo you saw on their blog, and they write you right back sending the photo.
Michelle DeRusha is one such person. When I was getting ready to share that I'd be resigning from my job in China, leaving an organization I had been with for years, and relocating to the U.S. I knew it would be B.I.G. news.
The image that kept coming to mind was "Stepping into my own River Jordan" and I wanted a picture of a person looking down at her feet as she stepped into water. Michelle had taken such a picture and sent it to me. I joined her fan club.
This past spring her memoir Spiritual Misfit was published. I just love the cover and the concept and highly recommend the book: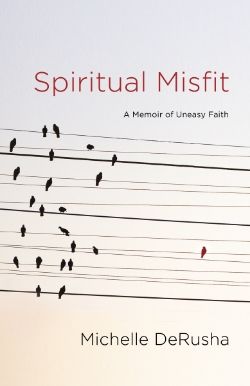 Haven't we all at some time felt like the red bird?
Today I'm over at her blog sharing where I have felt like a spiritual misfit.
One of the hazards of living overseas is returning to the US and finding yourself critical of a church you once loved. Of course I didn't hear of this potential pot hole until years into my time in China. By that point I was already ruined for the ordinary, so why not this area too?
Over the more than 18 years I was in China, one of the few constants was the change experienced year-by-year in my church experience.
This did not bode well for me fitting into churches that don't tend to change much.
My first year, church meant three of us  …. read the rest here.
Photo Credit Kaytee Riek via Compfight CC